Getting stuck in mud or snow on the side of the road is a common roadside emergency. You could call for a tow truck to pull your vehicle out, which can be expensive. Or you could try to install tire chains while your vehicle is stuck, which can be messy and dangerous. Either way, you will waste time and possibly waste money.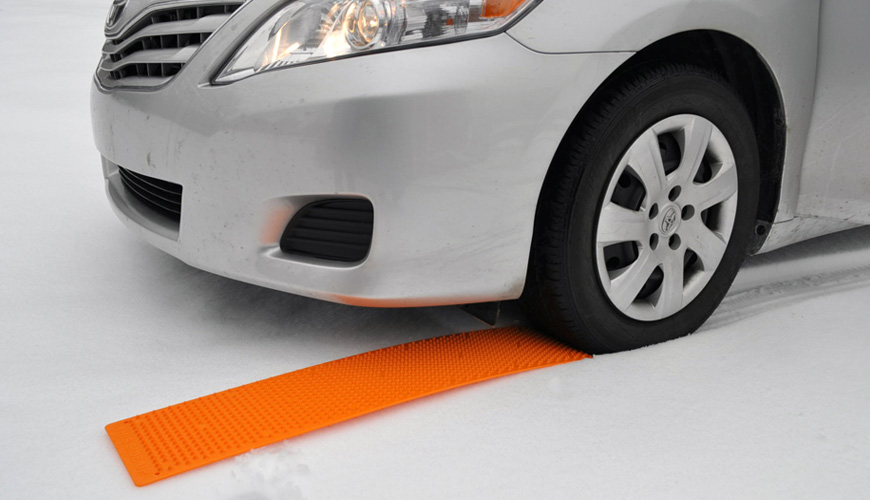 There is an alternative. The Portable Tow Truck tire traction device provides emergency traction to your drive wheels and allows you to get back on the road again with very little time or money lost. With the average price of a wrecker bill exceeding $100.00, just one use of the Portable Tow Truck will more than pay for itself.
Why should you use the Portable Tow Truck?
DESIGN – The Portable Tow Truck is designed to provide instant traction for a vehicle to drive out of an unsafe or slippery surface.
SIMPLICITY – Simply wedge the Portable Tow Truck under the pulling wheel (or wheels) and slowly drive the vehicle to a more suitable surface, making it easier to use than tire/snow chains.
PORTABLE – At 2.5 pounds each and 36 inches long, the Portable Tow Truck is easy to handle and consumes very little trunk space.
DURABLE – Made of Polypropylene, the Portable Tow Truck is tough and long lasting, giving years of service if properly used.
If you use it once, you'll never travel without it.
Purchase The Portable Tow Truck!
Each package comes with 2 Portable Tow Truck traction pads, one for each drive tire.

Get 10% off single sets. Retail price $54.99. Your price $49.49.

Get 20% off fleet packs of 10.

FREE shipping on orders of 2 sets or more in the continental US.

$9.95 shipping on a single set.